sempre ricordandovi l'appuntamento del Q11 a roma,pubblico anche
questa letterina e allegato linkino di un invito a partecipare a un
queer film festival che si terrà a berlino il prossimo
maggio(soleee!!!).visitate il sito
http://entzaubert.blogsport.de/
nonostante il paesaggio tossico
cattofascista non sia dei più
favorevoli per allargare una discussione di decostruzione di genere,
confido nel lavoro del collettivo romano che si trova a preparare il
Q11 con molti dubbi e difficoltà, ma aprendo un'importante discussione
di confronto.



hello all,






a group of people here in berlin are putting together a 






queer DIY

 film fest in may'08. if you've got great films 






you'd like to see

 shown here, contact the e-mail address






 below






ENTZAUBERT

 is a radical queer d.i.y. film festival




which will take

 place from 15-18 May 2008 in Berlin






on a squatted all-queer caravan

 site.






for the second time we will create a space for queer films,






their

 directors and their audience. for 4 days the open air






belongs to

 films which question heteronormativity and capitalism,






pomote

 diversity, and deconstruction of socially accepted 






constructions.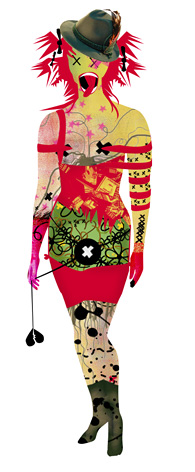 we are looking for

 movies within or beyond these categories:




d.i.y., queer, non-commercial, documentaries, no-borders, arty,






punky, anarchic, porn, trash, feminist, funny, serious,






low-budget,

no-budget, music, international, socialist,






homosexualist,

revolutionary, poly-amourous, lazy, 






tranny-dyky, faggy, old, brand-

 new, provocative,






difficult, hot, ………




 deadline: 15 April 2008


 contact: entzaubertfest@yahoo.fr




 http://entzaubert.blogsport.de/






about us:






entzaubert is noncommercial, entry to all screenings is free.






we

 support the idea of copyleft and creative commons






[share-remix-reuse]






entzaubert wants to be a platform for movies, 






films, documentaries

 that don't have a place






in big commercial festivals.






It doesn't matter what language your film is in. 






we will announce

 this in the programme and might






be able to find translation.






AND






This is a radical queer festival. we interpret queer in a






radical-

 left way: Fucking with gender normativity, 






borders and fighting for

 workers' rights are all part 






of one movement.






queer is not a lifestyle. it means the radical questioning of






oppressive structures and the interconnecting of different struggles.






no borders!






no nations!






gender fucking!